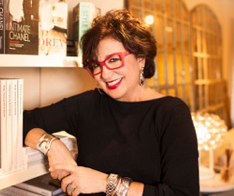 ROZ
PACTOR
I am a fashion/marketing consultant and lifestyle blogger based in Houston, Texas with more than three decades of experience in fashion retailing that has spanned Foley's Dept. Stores, Bloomingdales NYC and Neiman Marcus. I was most recently employed as the Vice President/Fashion Director for Foley's before starting my own company, The Pactor Group. Here, I have adapted my fashion and retail skills and knowledge to consulting both on the business and personal level, assisting clients through my years of experience.
I am probably best known for my signature personal fashion statement that has evolved from my many years of wearing only RED GLASSES. My primary focus has been the development of my blog, newly renamed simply, MY RED GLASSES, formerly The Chic Sheet As Seen Through Lovely Red Glasses, through which I love to provide my own unique perspective on the work of fashion but have expanded my site into the fields of beauty, health, dining, home areas and travel, as I believe that fashion is at the core of it all! I find Texas, Houston and most recently my exploration into the Italian shopping scene to be full of amazing talents and the opportunity to share both local and global talent with my readers continues to give me great pleasure.
My love and experience in the world of fashion has taken me to many amazing places and given me the opportunity to meet and chat with so many talented, creative folks in the world of design that have enriched my life and for that I am forever grateful. I also believe that it is important to give back to the field that I love and to the organizations that are making great efforts to change lives and for that reason my "give back" opportunities are very important to me. Here are a few of the wonderful charitable groups that I give my time and resources to….
American Heart Association: I am proudly a passionate participant in the American Heart Association Guild, where I have served as a former President and founder of the young professional's organization, Young At Heart. I have served on all Heart Committees from the Heart Ball to the Heart Walk and was honored at the Go Red For Women Annual Luncheon as the Volunteer of the Year Award for 2011. Most recently I have planned and executed the first ever Shop With Heart Card campaign, working with a Heart volunteer team that approaches retailers and restauranteurs throughout the city to participate in this week long fundraising campaign for AHA.
University of Houston Department of Retail: charter member & current Chair of the Advisory Board at UH for Retail Merchandising Careers. I also originated and chaired the University of Houston Merchandising Star Awards/Salute to Retail bi-annual luncheon which honors local retailers, community leaders and supportive media with a goal of providing scholarships for several worthy UH Retailing students.
Fashion Group International: current member of FGI for many years where I have done numerous trend presentations, panel discussions, and was a designated keynote speaker for Career Day.
Bo's Place: Marketing Chairman for the Girls Night Out event for four years, where I shopped the city for participating market vendors for this annual shopping, fundraiser event for that organization.
Recipe For Success: Support and participant in development of Dress for Dinner concept for multiple fashion events; co-chair of year #2 of the event concert.
*Annual MS Luncheon: working committee member for four years; Host Committee Chair; humbled at receiving the Woman on the Move Award in 2013
*Hermann Park Conservancy Advisory: Board Member since 2008.
*Annual Passion for Fashion Luncheon: benefiting HCC; on committee since inception
*Texas Children's Ambassadors: member & supporter of TCH
*Co-Chair of annual Boys and Girls Harbor Fashion Show & Luncheon 2016
*Diaper Foundation 2016: active volunteer in this newest opportunity for me to aid the needy in the community thru raising funds and awareness of the much needed support for mom's of infants and toddlers to keep their children properly cared for with dry bottoms.
In closing, my pride and joy is my family. My husband Alan and I have two daughters, Crystin Pactor and Nicole Pactor Graham and her husband Michael and their beautiful daughters Haylie, Harper and Harley. We. We are also excited that there will be another Graham baby on the way this summer. I am also the proud sister of Houston's own, Grammy award winner, singer Steve Tyrell.